2014 Adams river salmon run:
On October 19th Subvision Productions went on the road to film the 2014 Adams river run.
The following links have a video compilation of some of the stock footage we took :
Youtube standard definition  /  Vimeo 1080p version
This legendary sockeye salmon run is an annual attraction for millions of viewers from all over the world. Each 4 years an extra large run of sockeye salmon comes up from the coast and travels over 450 km up the Fraser and Thompson river. After crossing Little Shuswap lake the end up in the Adams river. The last big run was in 2010 and the expectations for the 2014 Adams river salmon run were very high.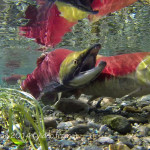 The dates that we went up to the river were ideal as we just hit the peak of the fish volume. The thousands and thousands of salmon were all over the river. Though the  numbers did not reach the expected levels nevertheless it was a large run.
The first day was spent in the fast flowing parts of the river. Using the Sony EX1 in a Gates Housing as well as a remotely operated GoPro 3 we were able to get very close up footage.  In this stage of their live the sockeye become aggressive towards each other with the females being more ferocious than the males. We filmed display behavior of the males like biting, yawning, chasing jacks ( smaller immature males) and air gulping at the surface. The females were seen chasing other males away as well as  females coming too close to their "redd" (nesting site).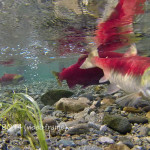 On day we went to visit shallow spawning channels and the exit of the river at Shuswap lake. In the lake we hope to film fish and other creature feeding on the carcasses of the dead salmon. However we did not observe this. Large numbers of sockeye were schooling in the fast current to get into the river.  In the shallower spawning channels we saw digging and courting behavior. However the actual release of eggs and milt (sperm) did not happen. I guess we will call that unfinished business for next year.